Julian Assange arrested at Ecuadorian embassy in London
WikiLeaks founder is found guilty of breaching bail by Westminster magistrates
Police have forcibly removed the WikiLeaks founder, Julian Assange, from the Ecuadorian embassy in London and arrested him, after the Ecuadorian government withdrew asylum.
Appearing before Westminster magistrates, Assange was found guilty of breaching bail and was told he would face a jail sentence of up to 12 months when he is sentenced at crown court.
The 47-year-old had been taken into police custody for failing to surrender to bail and on a US extradition warrant, after Metropolitan police officers were invited into the Knightsbridge embassy. He had taken refuge there for almost seven years to avoid extradition to Sweden, where authorities wanted to question him as part of a sexual assault investigation.
He was being held on Thursday on a warrant issued by Westminster magistrates court on 29 June 2012, when he failed to surrender to the court.
Earlier, footage showed a bearded Assange shouting and gesticulating as he was carried out in handcuffs by plainclothes officers and put in a police van shortly after 10am.
Assange had refused to leave the embassy, claiming he would be extradited to the US for questioning over the activities of WikiLeaksWhy was Julian Assange in the Ecuadorian embassy?
Speaking to parliament, Theresa May thanked the Met and the Ecuadorian government and said: "This goes to show that in the United Kingdom no one is above the law."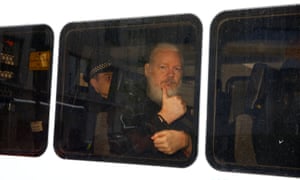 The Home Office confirmed that the US request for Assange's extradition was for an alleged "computer-related offence". A Home Office spokesperson said: "We can confirm that Julian Assange was arrested in relation to a provisional extradition request from the United States of America. He is accused in the United States of America of computer-related offences."
Sweden's chief prosecutor, Ingrid Isgren, said in a statement that the arrest was "news to us", and she and colleagues were following developments. A preliminary investigation can be resumed in Sweden as long as the suspected crime is not subject to the statute of limitation, she added. In this case, the suspected crime would be subject to statue of limitations in mid-August 2020.
The president of Ecuador, Lenín Moreno, said on Twitter: "In a sovereign decision Ecuador withdrew the asylum status to Julian Assange after his repeated violations to international conventions and daily-life protocols."
WikiLeaks said the Ecuadorian government had acted illegally in terminating Assange's political asylum "in violation of international law".
Outside the Ecuadorian embassy reporters were interviewing an Assange supporter wearing a placard reading "free Julian Assange" around his neck.
Kyle Farren, 22, from Knightsbridge, said: "I think I might have arrived just as he was taken. He was taken at about 10.30am.
"When I arrived there were three vans all parked out here and there was a semi-circle of police around the entrance, and a policewoman asked me to move on."
A police van filled with officers that was outside the embassy left soon after the Guardian arrived. Across the road several dozen broadcast news journalists set up their cameras and lights. Farren remained outside the building, manning a shrine to the publisher and taking interviews with reporters from around the world.
Another Assange supporter, who witnessed the arrest, said: "There were at least six men dragging Julian out and more uniformed police standing by. Julian was talking but he was bundled into a van. He looked dazed.
"He hasn't seen daylight in over six years so to bring him out into bright sunshine was really cruel. We feared this would happen over the weekend, probably in the middle of the night, so this is truly shocking."
An arrest warrant was issued for Assange in 2010 for two separate allegations – one of rape and one of molestation – after he visited Sweden for a speaking trip. He launched a legal battle against extradition to Sweden but when that failed entered the Ecuadorian embassy in Hans Crescent and requested political asylum.
Elisabeth Massi Fritz, a lawyer for one of the two women who accused Assange, welcomed the arrest. "My client and I have just received the news that Assange has been arrested. That what we have been waiting and hoping for for almost seven years has now happened is clearly a shock to my client. We will do everything we can to ensure that the prosectors resume the Swedish preliminary investigation so that Assange can be extradited to Sweden and prosecuted for rape."
Assange's arrest comes one day after WikiLeaks accused the Ecuadorian government of an "extensive spying operation" against him, during which they claimed meetings with lawyers and a doctor inside the embassy over the past year were secretly filmed.
The arrest was welcomed by the British foreign secretary, Jeremy Hunt, who tweeted: "Julian Assange is no hero and no one is above the law. He has hidden from the truth for years. Thank you Ecuador and President Lenín Moreno for your cooperation with the Foreign Office to ensure Assange faces justice."
Hunt said Moreno "took a courageous decision which has meant we've been able to resolve the situation today".
"We're not making any judgment about Julian Assange's innocence or guilt – that is for the courts to decide – but what is not acceptable is for someone to escape facing justice and he's been trying to do that for a very long time."
The home secretary, Sajid Javid, tweeted: "Nearly seven years after entering the Ecuadorian embassy, I can confirm Julian Assange is now in police custody and rightly facing justice in the UK." He added: "No one is above the law."
Kremlin spokesman Dmitry Peskov said Moscow hoped Assange's rights would not be violated.
Britain has guaranteed to Ecuador that Assange would not be extradited to a country where he could face the death penalty. Moreno said in an video posted on Twitter following the arrest: "In line with our strong commitment to human rights and international law, I requested Great Britain to guarantee that Mr Assange would not be extradited to a country where he could face torture or the death penalty. The British government has confirmed it in writing, in accordance with its own rules."
Assange supporters reported increased police activity at the embassy last weekend. Two armed officers went into the building on Saturday and people taking part in a vigil said teams of plainclothes officers were outside the embassy throughout the weekend.